A well-planned home office isn't just pleasing to the eye, it's also functional. The first thing you must do when evaluating your home office needs is to determine what is going to be done there. An office for paying bills and keeping home records, for example, will have quite a different plan than one used daily for business purposes. A person who makes a tangible product will have different space requirements than one who works on the computer.

The first thing you should do is figure out how much your office needs to be separated from the rest of your home. In other words, does your office space need to be distinctly separate from your home life, or can you weave the two together? The answer will be based on not only the type of work you do in your office, but also on your personality.
The other thing to consider is whether your office space requires public access. If you expect customers or clients at your home office, ideally it should be accessible from the outside. Offices that are visited by clients should also have a professional appearance, both on the inside and on the outside.
Before you set up your home office, be sure to check with your town, city or village regarding zoning regulations and ordinances. In many cases, you will need a permit for a home office, especially if there are visiting clients and customers.
Finally, be sure to understand how your home office will affect your home finances, insurance, and tax obligations. Attending to these matters will ensure that both home and business are safe against loss, and may even provide certain tax benefits.
This well-written Taunton Press publication, Building the Custom Home Office, features home office design and construction ideas as well as home work space projects.
---
Copyright © Zeducorp.
All rights reserved.

Home Office Planning Guide
Related Home Office Images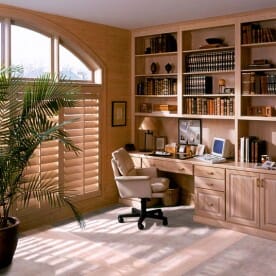 Built-in Bookcases In A Home Office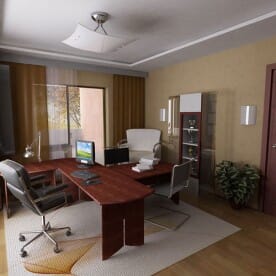 Contemporary Home Office Furniture